Notepad++ for web development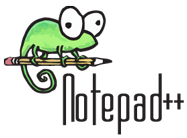 Notepad++ is a source code editor and Notepad replacement that supports several languages. Running in the MicroSoft Windows environment, its use is governed by GPL License.
Based on the powerful editing component Scintilla, Notepad++ is written in C++ and uses pure Win32 API and STL which ensures a higher execution speed and smaller program size.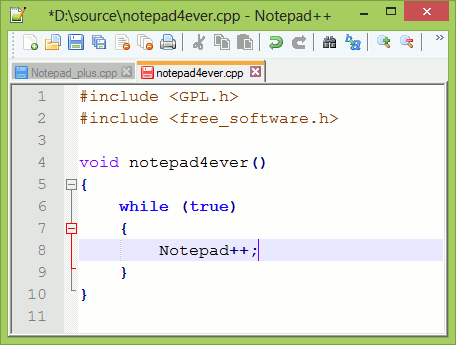 It should make clear that it is not an IDE (Integrated Development Environment), is a text editor with many features. Something that has negative things because it has not so many features that simplify work and positive things and it is very fast.
Some of these featuresarethese.
Features
Syntax Highlighting and Syntax Folding.
User Defined Syntax Highlighting and Folding.
PCRE (Perl Compatible Regular Expression) Search/Replace.
GUI entirely customizable: minimalist, tab with close button, multi-line tab, vertical tab and vertical document list.
Document Map.
Auto-completion: Word completion, Function completion and Function parameters hint.
Multi-Document (Tab interface).
Multi-View.
WYSIWYG (Printing).
Zoom in and zoom out.
Multi-Language environment supported.
Bookmark.
Macro recording and playback.
Launch with different arguments.
Some of natively supported languages are these.
Languages

Ada
ASP
Assembly
AutoIt
Batch
C
C#
C++
Caml
CMake
COBOL
CSS
D
Diff
Flash ActionScript
Fortran
Gui4CLI
Go
Haskell
HTML
INNO
Java
JavaScript
JSP
KiXtart
Lisp
Lua
Makefile
Matlab
MS-DOS
MS Ini file
NSIS
Normal text file
Objective-C
Pascal
Perl
PHP
PostScript
PowerShell
Properties file
Python
R
Resources file
Ruby Shell
Scheme Smalltalk
SQL
TCL
Tex
Visual Basic
VHDL
Verilog
XML
YAML
If we want to develop websites with Notepad++ we can do but be a little troublesome because it is not focused on web development.
To compensate for their faults we install some plugins that will help us in our daily work of web developer.
Plugins
Explorer
Explorer plugin is a tree file browser. With this plugin we can manage all files on the local site of our website.
HTML tag
This adds a bunch of really accessible shortcuts for HTML/JavaScript editing. Great to find rogue HTML tags or "entifying" strings.
Need to find a matching tag? Just press Ctrl-T.
Select all content within a tag? Ctrl-Shift-T
Encode characters to entities? Highlight and Ctrl-E.
Encode your JS to one line? Highlight and Ctrl-J.
CSS-eXplorer
CSS-eXplorer is a CSS and HTML plug-in for Notepad++. It allows easy navigation and edit of CSS files with Notepad++.
TreeView: Allows easy navigation in CSS file.
Validation Service: Check errors in CSS file, and provide detailed report.
Web Page Preview: Test your work on CSS file immediately via HTML Web Page Preview Window.
CSS Editor: Add new parameters and design options to CSS file quickly and easily (support CSS 2.0 defines).
Code-express
Speeds up writing code in many languages ​​with shortcuts to code templates. Video
Zen coding
Verysimilar plugin toCode-express.
NppFTP
Plugin for Notepad++ allowing FTP, FTPS, FTPES and SFTP communications.
XML Tools
This plugin is a small set of useful tools for editing XML with Notepad++.
XML syntax Check.
XML Schema (XSD) + DTD Validation.
XML tag autoclose.
Pretty print.
Linearize XML.
Current XML Path.
Conversion XML <-> Text.
Comment / Uncomment.
XPath expression evaluation.
Conclusion
Notepad is fast and free. It is very useful for edit and modify files. It is not an IDE and is not oriented for web development therefore lacks many basic functions that would speed up and facilitate the work of a web developer. To touch a little every facility that provides an IDE like Dreamweaver, Coda or Aptana Studio should install many plugins. For all this we can conclude that Notepad++ is not a good choice for developing web sites, at least for people who are learning.
The recomendable tools are Brackets, Sublime text 2 or Adobe Dreamweaver, for rookies and experts.