Limitations and Plugins of Unity 2D
Since Unity 4.3 (the firts version of 2D tools in Unity workflow), the Unity 2D tools has greatly improved but actually doesn't satisfy all needs of a 2D game development, specially the pixel art games. To satisfy this features you must use a multiple plugins.
Pixel perfect
Pixel perfect is a very important concept and problem in pixel art multiresolution games. Unity 2D can't solve this problem or not in the best way.
Pixel perfect indicates the on-screen visualization of a 2D image, where each pixel of said image fully occupies either A) a single screen pixel or B) a screen area corresponding to a multiple of 2 pixels. This allows each pixel of the image to be seen as clearly as possible (in short, perfectly), without additionally generated anti-aliasing.
A plugin called Pixel Perfect created by Pixellatto is a easy way solution to this horrible headache.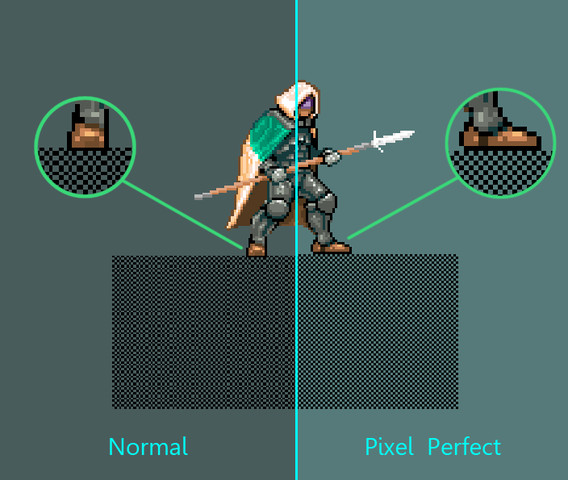 Animated colliders
Animated colliders are very important for animated sprites, colliders that fits to the shape of every frame of a sprite. Unity 2D can't solve this problem or not in the best way. The only way to do this in Unity is attach one collider for each frame to the sprite object and activate anf deactivate the colliders depending of the actual frame of sprite.
A plugin called 2D ColliderGen created by Pixelcloud Games is a easy way solution to manage multiple colliders for one sprite. It is also capable to generate colliders automatically and compatible with 2D and 3D colliders, very useful.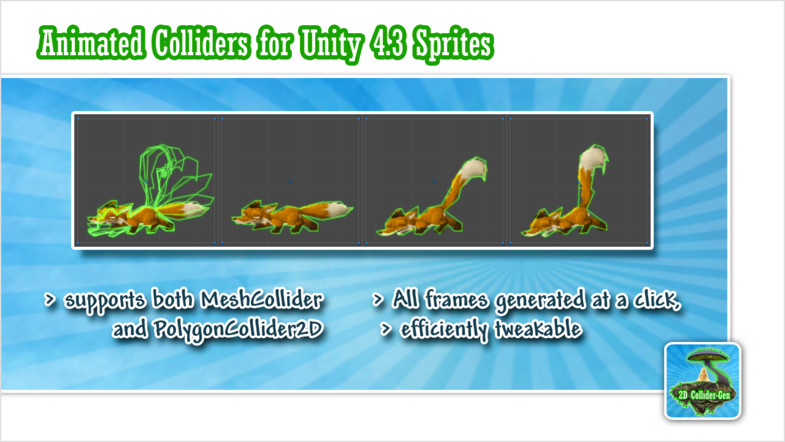 Tiles and Tilemaps
Unity 2D treats sprites like independent gameobjects, this is very flexible but in tile and tilemaps words is less optime. Unity 2D also doesn't have a tile editor to paint tiles in the scene.
Very soon I propose a solution for this.
Tiled Sprite
Unity sprite base object is unable to be a tiled sprite. You can use a common Unity texture with wrap mode in repeat and modify its to achieve a workaroud if this problem.
A plugin called Tiled Sprite created by Equinox Creations is a easy way solution to create tiled sprites. This plugin uses the Unity sprite base object and tesselates is sprite mesh to obtain the illusion of a tiled sprite, is very useful if you want a tiled sprite with or without animation. Also can adjust the sprite mesh size in runtime and optimize the tiled sprite to use only on drawcall.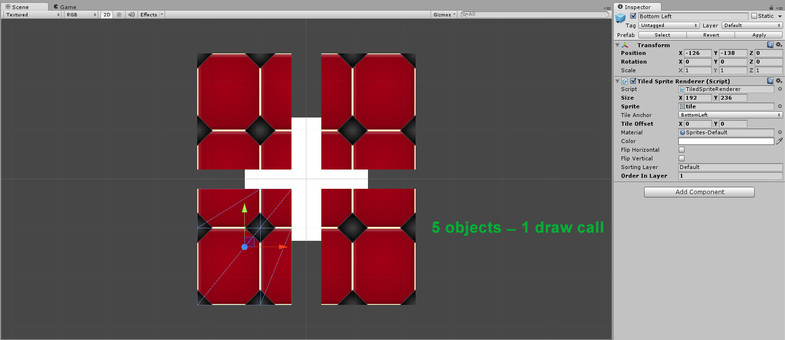 Sprite Animation Preview
When you want preview a sprite animation in Unity is bit tedious because you have select a gameobject in current scene, open "Animation" panel and select in the dropdown menu the animation to preview.
A plugin called Sprite Animation Preview created by kyusyukeigo is a easy to use sprite animation previewer. You have only select a animation from "Project" panel and click play in "Inspector" panel and also you can preview more than one animation together, very useful and free.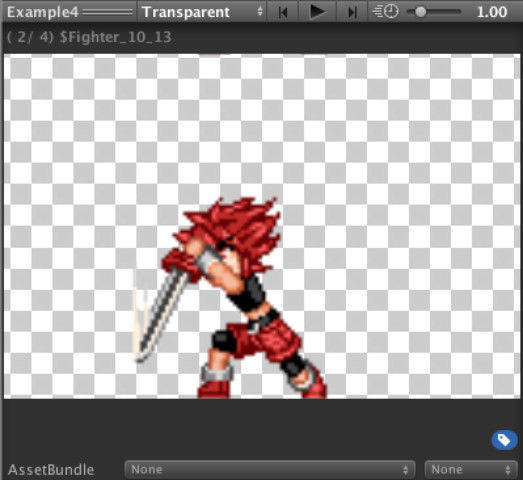 Pixel art rotation
Unity standard rotation isn't the appropiate rotation system because alterates the pixel art look of sprites.
A plugin called Pixel Art Rotarion created by Astrhee Works is a easy way solution to rotate sprites without break the pixel art look of sprites. Implements an algorithm that reads the pixel matrix in every sprite, redrawing them in each correct position, awesome.